Camden natives Sidra Smith, Mickalene Thomas visit the city to highlight its arts scene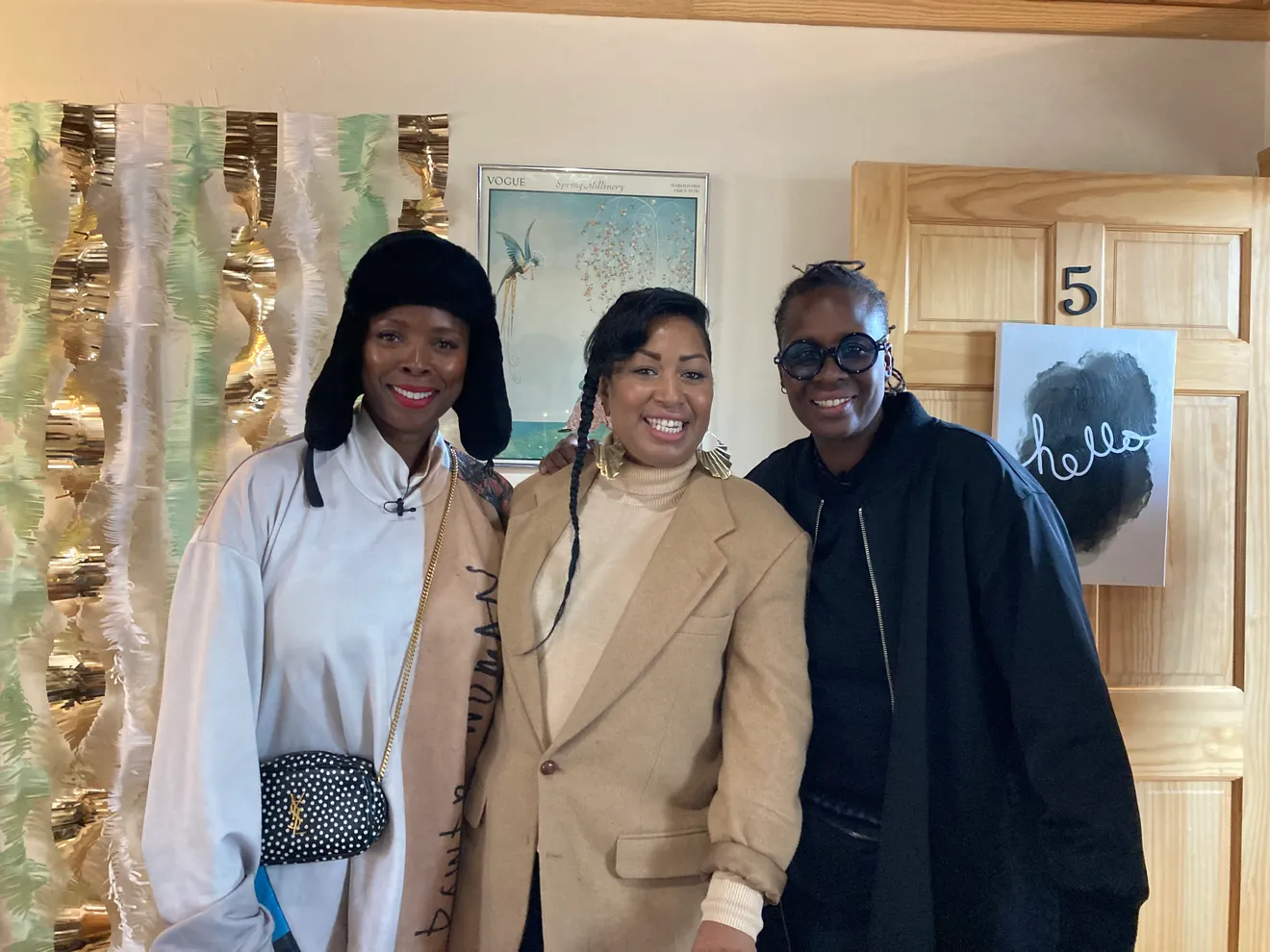 By Phaedra Trethan Cherry Hill Courier-Post
CAMDEN — "It's fascinating to me," said Kimberly Camp as she sat at Camden FireWorks on Monday. "There are rock stars from Camden, and they're all in the arts."
Camp, a Camden native and art world rock star in her own right (now owner of Galerie Marie in Collingswood, she was CEO of the Barnes Foundation and her work has been shown at the Baltimore Museum of Art, Longwood Gardens, the Smithsonian Institution and the African American Museum Philadelphia), also wondered, "Why do more people not get this?"
Two of those rock stars — visual artist Mickalene Thomas and writer/producer Sidra Smith — paid a visit to their hometown Monday, touring its artist spaces and a South Camden museum with Mayor Vic Carstarphen. The purpose: To explore ways each of them can use their respective platforms to help elevate Camden as a place where artists and creators can build a community and help propel the city's ongoing renaissance forward.
Their other stops included artist William Butler's nearby studio and the Camden Shipyard and Maritime Museum, just down the street from FireWorks. They drove through some of Camden's most challenged neighborhoods, but neither of the Camden natives now living in New York seemed discouraged by what they saw.
"Family. Home. Support. Community. Culture. History. What's viable, progress, change, transformation, growth," Thomas said when asked what she saw in Camden.
A visual artist, Thomas' work has been exhibited at New York's Museum of Modern Art, and Guggenheim and Whitney museums, San Francisco Museum of Modern Art, Museum of Fine Arts in Boston, Art Institute of Chicago and Hara Museum of Contemporary Art in Tokyo. Her portrait of Michelle Obama is in the collection of the Smithsonian's National Portrait Gallery.
A 2019 profile in Town & Country magazine notes that she was born in 1971 in Camden and raised by a single mother. She left the East Coast in the early 1990s, struggling with her sexuality and studying prelaw and theater arts at Portland State University. (Thomas, who holds art degrees from the Pratt Institute and Yale School of Art, identifies as queer.)
Smith, also born in Camden in 1971, was a model who lived in Paris and Italy; the latter is where she developed a love of cooking and, according to an Essence magazine article, "her modeling career was cut short because of her love of pasta."
She rebounded well, though: She cast music videos for Dr. Dre, then formed a casting agency; later, she went on to produce feature films and documentaries, including the 2013 documentary "Free Angela and All the Political Prisoners," about Black Panthers activist Angela Davis (Jada Pinkett Smith was an executive producer on the film). Her twin sister, Tasha, is a well-known actress.
"What's happening here now, I'm excited that I'm being integrated and woven into this web, this phenomenon of what's happening, people really wanting to take the energy that's here and ignite it so it's sustainable, for its growth, for commerce, and creating economic wealth," Thomas said.
"We've been talking with Sidra about the arts community here in Camden and how we can build relationships, how they can help us build upon what we already have here," said Carstarphen. Smith encouraged Thomas to take part in a tour of the city.
"They're both all in for helping, and in a perfect world, we'll have people who are from here highlighting what's great about Camden artists, bringing more artists and building from there."
Both of the Smith twins and Thomas are representing their hometown "by doing extraordinary things," he added. "We're asking ourselves, 'What are artists here going through? How can we help young artists?' So it's good to have people who've lived here to be part of this."